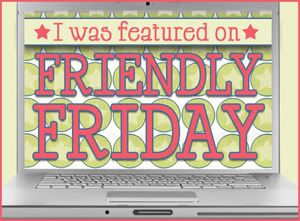 Happy Friday Everyone!! I hope your having a great day so far and most importantly that your having fun whatever you are going to do today!
I am going to make some muffins this evening with my two favorite princesses and we are going to watch a movie. They absolutely adore the first Ice Age so we may watch that OR we might just do a princess movie!
I am so excited today as well as I am featured on FRIENDLY FRIDAY! So if I was not having an awesome day as it was this definitely makes it better. If you have not joined in their hop and even if you have before be sure to check them out!
Have a great weekend!